It's time to turn email marketing into a lead and revenue generating source with our cutting edge technology at Intermind, an agency with 20+ years of experience. We offer a full service solution that includes content, template, designing, developing and managing your email strategy along with attracting new potential conversions and increasing your lead turnover.
We cater to all sectors whether it be a law firm, a manufacturing company or a university, our team of experts have got your back. Send promotional emails, informative emails, product based emails, monthly newsletter, and more to keep your clients and business buyers in loop of your innovations and services. With our agency, your business can take full advantage of email marketing. Save yourself some time, sit back and allow our dedicated team of professionals to create, manage and launch your very own custom email marketing plans.
Looking over all the conversion driving parameters to help your business achieve its target and earn higher revenues is what we strive to do. With a specialised team, we combine data and creativity and optimise the content to attract interested clients and keep them primed to your business and product. We also help your business leverage other marketing mediums and send out newsletter as part of your email marketing strategy to build a sense of credibility and foster leads.
With our email marketing strategy, your company can avail services to the following plans-
Email marketing design: Revamp your old newsletter or create a brand new design customised to your business aesthetic with our email marketing digital services. Get a chance to work with our brilliant and experienced professionals to create a design that drives results and fuels your brand.
Email marketing management: Choose a plan to attract and nurture more leads through our cost and time effective email marketing management services. Every key task will be handled and managed by our team customers catered to your choices.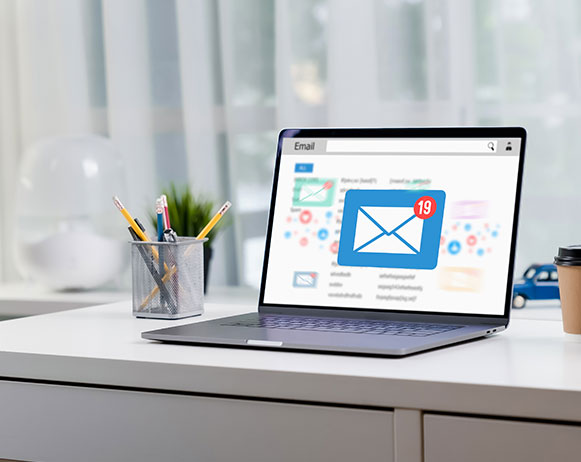 Our Strengths
With structured and goal defining emails and newsletters, we drive deep to cultivate content that's personalised for your brand and helps expand your customer base.
Our strategy is based on extensive user research to make them highly useful and aesthetically appealing too.
We focus specifically on the end users' needs and requirements designing the shortest and most effective patterns of the user's interaction with the mails' content and template.
We design and deliver unmatched quality that propel your branding strategies.
We have a skilled email marketing team who makes sure that every mail is intriguing and gripping.
We specialize in a wide range of design services and capabilities.
To ensure high quality of the email and delivery on schedule, we have a strict set of inhouse standards for our designers to follow.
Your Advantage
Increases customer acquisition and loyalty.
Expands brand presence.
Maximises revenue generation opportunities for your business through monetisation of emails.
Helps you retain customers.
Outstanding solutions created by a team of designers for your diverse requirements.