With dual expertise in documenting and understanding business processes (borrowed from our software development division) as well as an in-depth understanding of how search engines rank websites, the team at Intermind has 2 decades of successful SEO execution experience.
Our business-centric monthly reports decode the technical maze of SEO and provide you with an easy to follow but relevant progress report.
Our first SEO project was in 1999, where we ranked a travel website on the first page of search engines in 11 countries. We are currently working with a fintech provider, getting them more than 100 leads per year from 20 target countries. We work with an outsourcing service provider, getting them 240 leads per year from US & Europe. We work with a steel detailing company, building awareness about their services among fabricators in the US & Canada. We work with a marine engineering company in Singapore, increasing brand name searches as far away as Greece & Norway. Our work speaks for itself.
If languages and country-specific search engines present a challenge in International SEO, local SEO needs an in-depth understanding of directories and authoritative websites in that particular area. We have specialized teams that research how a search engine like Google tracks a certain locality & provide the right signals in terms of listings, brand mentions and links. We push the boundaries in terms of the geographical reach of our clients, getting them to walk-in customers from outside their captive neighbourhood.
We have been SEO practitioners long enough to understand how to stay in the good books of search engines. We have seen businesses of all sizes suffer massive financial losses because their SEO agency goofed up and got their website banned. None of our clients has been banned in the last 20 years. In fact, we take up websites that have been banned by Google under a special 4 months program & help reverse the ban. We also audit websites and predict the likeliness of a search engine ban.
Our content team create evergreen content in the form of website service/product pages, blogs, whitepapers, case studies & videos that feed search engines with 100% unique, grammatically correct content, which also happens to be interesting read for your potential customers. Our HTML team creates mobile-first, fast loading, user friendly, contextually tagged web pages that search engines love as much as humans.
Get in touch with us today for a free evaluation of your website from a search engine presence.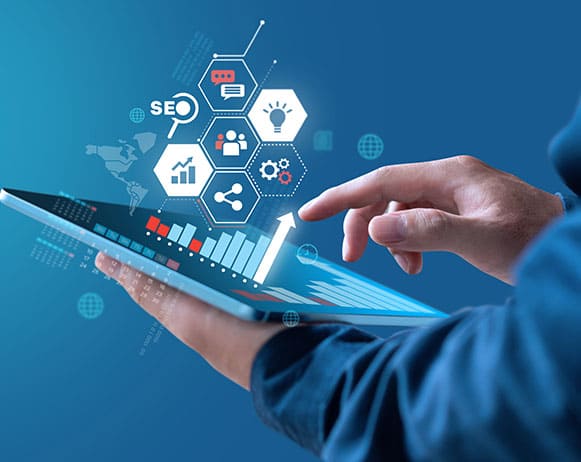 Our Strengths
At Intermind, as a specialist in SEO, we have achieved the perfect mantra for ranking a website first on Google.
Before we start, we do an expert analysis of your website to make sure we use every opportunity to improve your SEO positioning.
Over time, we can help you increase conversions and revenue every year.
We optimise your website's SEO performance for all devices, including mobiles, laptops, desktops, tablets, etc.
Our SEO optimization will improve engagement of your website and increase sales, besides improving your website's standing with Google, giving it the highest Google ranking score possible.
Our expertise with years of experience of having successfully optimised websites of all kinds of businesses in diverse industries will ensure you get a job well done with promised results, professionalism and confidentiality.
Your Advantage
Helps you reach your marketing goals.
Drives traffic to your site by increasing your reach.
Helps your business have an SEO optimised website that appears higher on Facebook thereby increasing your social media reach.
Boosts your SEO positioning on Google.