Today more than ever businesses need a leg up. An ace in the hole. An edge over the frivolous competition. We, at Intermind, with over 20 years of experience in social media marketing and content creation, are the ace you need to expand your business globally through social media.
We're competent to help businesses stay in step and grow with today's social media-driven market with our end to end digital marketing solutions.
From engaging digital experiences to result-driven marketing strategies, cutting edge content creation, awe-inspiring designs, consistent branding, customer centricity and beyond, we're unparalleled in our sensibilities and innovative capabilities. With our passion, experience and efforts, we can take your business to the next level.
Based out of India, Australia & US, Intermind is a full-service digital marketing agency that has spread its wings in the social media marketing realm as well and worked with top brands, SMEs and startups from across the world. Our team of experts have been around the block enough to understand the kind of content that works on social media and how different platforms interact and work. With early access to new social media features as well as platforms through our partnerships, we ensure that your business leverages upcoming tools to stay ahead of the competition. Apart from managing company/brand presence, we manage profiles of key members of the team.
Our team has in-depth expertise in performance marketing, be it on Facebook, Instagram, Linkedin, Youtube. With limited organic reach of social media platforms, ads are the key to drive results for your business. Social media is not just about posting content, it's all about the interactions and creating a community around your brand. We work on Facebook & Instagram, LinkedIn, Quora, Twitter, Pinterest, Youtube and upcoming platforms like TikTok, Snapchat, Clubhouse. We have a deep understanding of content buckets (what to post), dayparting (when to post), audience targeting, storytelling and content marketing. We understand your business and targeting, matching it with social media platforms that can drive results.
Intermind also provides advanced social media services like social listening, predictive analytics, influencer marketing and social commerce offerings leveraging AI & Big Data.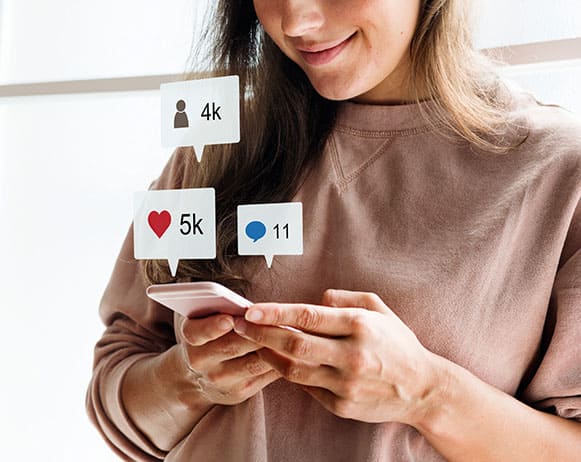 Our Strengths
We experiment with Call To Action (CTA) buttons, design attractive and enthralling content to increase engagement.
To drive conversion, we focus on the content making it practically irresistible and appealing for the consumers
We analyse whether the right data is being collected and make recommendations and changes accordingly.
We carry out an extensive analysis of your potential customer's behaviour, preferences and demographics to understand their expectations and create posts accordingly.
Our multivariate testing on several social media features and elements make sure your posts perform well and attract the right users.
We optimise your feed with rigorous analytical information to increase reach.
We ensure that the posts are relevant as well as attention grabbing, increases organic interactions and followers
Your Advantage
Unrivalled and unique content
Unrivalled and unique content.
Helps you leverage your current traffic.
Helps your posts reach the right target audience
Improves your brand perception.
Creates a dynamic online presence for your business.