Does your website have an immersive and enjoyable experience and brings in positive emotions for the visitor? In an era of digital products, enhancing the end user experience is a key reason for business success. It has become crucial to build products with UX Strategy and Design that can be measured to understand user pains and solve problems to bring in greater levels of customer satisfaction.
An impressive UI besides capturing the attention of the user is capable of creating outstanding UX and building the business brand. So, you need to focus on creating immersive UI designs that drive improved UX and are supported by user research. The right user research methods identify user needs, user pain points to address, an understanding of the market and pave the way to achieve your business goals.
With over a decade in design, our team has perfected the art of delivering the most effective UI and UX services within the set timeframe, following established design standards, workflows, and guidelines.
As an experienced UI/UX Design agency, our expert team of designers at Intermind focuses on user expectations and incorporates the UX design practice in each stage of the development cycle. Our designers specialize in creating appealing interfaces that are attractive, easy to navigate and meet the client's vision enabling them to maximize their ROI. The team at Intermind is an ace at creating game-changing products that raise a sense of excitement, and satisfaction for the user.
We specialize in UI design for complex enterprise applications like intrantes, core banking software, e-Commerce portals, UI for emerging technologies like IoT, XR (AR, VR, MR) and Machine Learning.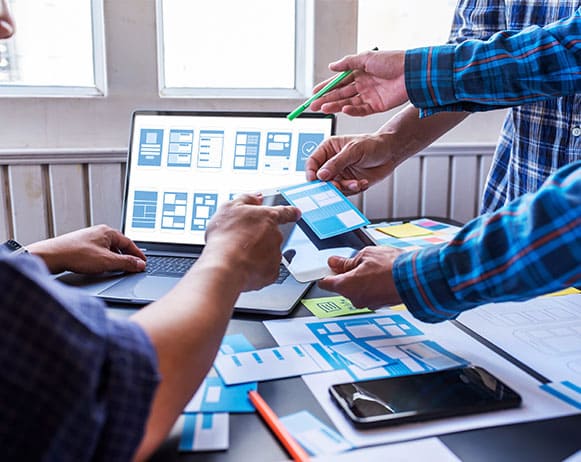 Our Strengths
With comprehensive reviews, and reusing the most impactful practices and tools, we drive deep to quantify your problem and provide a unique UX/UI design and development service.
Our designs are based on extensive user research to make them highly useful and aesthetically appealing too.
We focus specifically on the end users' needs and requirements designing the shortest and most effective patterns of the user's interaction with an app.
We design and deliver unmatched user experiences that propel your branding strategies.
We have a skilled QA team who makes sure that every app operates as expected with its interface elements displayed perfectly on different devices.
We also test whether the UI is easy to navigate and the app's functionality is fully utilized
We conduct user-testing sessions to gather valuable feedback, insights on UI / UX and then get ready to transform this data into actionable design changes.
We specialise in a wide range of design services and capabilities.
To ensure high quality of the product and delivery on schedule, we have a strict set of inhouse standards for our designers to follow.
Your Advantage
Increases customer acquisition and loyalty.
Optimise your resources, development time and costs.
You'll get more insights from our user engagement metrics.
Maximise revenue generation opportunities for your business.
Helps you retain customers.
An expert team of designers that create outstanding solutions for your diverse requirements.