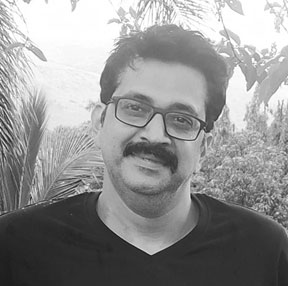 Sunil is the Co-Founder at Intermind, a Web Design Company with 18 years experience in UX & CX. He also designs interfaces for VR, AR, IoT devices, voice command based interfaces, social & mobile. He has been hands on in HTML & Web/Mobile UI design right from 1999. He has conceptualized interfaces for complex enterprise applications including core banking softwares & has increased the usability of enterprise software products implementations like Peoplesoft Applications & Microsoft Sharepoint. Sunil holds a diploma in Mass Communication and is trained in graphics and UI design.
Right from rough wireframes sketched on a piece of paper, Sunil works on user flows, information architectures, designs the UI, codes the HTML pages and optimizes them for lightning fast loading times. He co-founded Intermind Digital in 2017, which is his second startup after Scribbl Technologies in 2012. He heads the UX & UI division, which has specialists in Graphic Design & HTML/JS/CSS developers.
Sunil has created intuitive user experiences for Tata Nelito, GVK, HSBC Bank, Tata AIA, 9X Media, Kotak Bank, Cloudwalker, Mercedes Autohangar, among many others.
Back